Stop being so mental, you fucking idiot!
I am having a mental health day today. Sort of. I'm working, but I'm on my couch and I have a blankie. Also, I have a sinus infection and my face feels like tiny men are trying to punch their way out of it. So I guess it's part mental health day, part actual health day and part doing work anyway day. But I digress.
Do you know who probably needs a mental health day? Matthew Newton. I'm no psychologist, but I am someone who has her own mental health issues and all I see when I look at that guy is the saddest of sadness. I've read a great slog of articles today, particularly ones that talk about his violence against women, and they make me vomit in my mouth a little. Not because we shouldn't feel the greatest empathy for the people he has hurt (and especially the women) but because they don't help. Anyone. Especially not further women who may be hurt.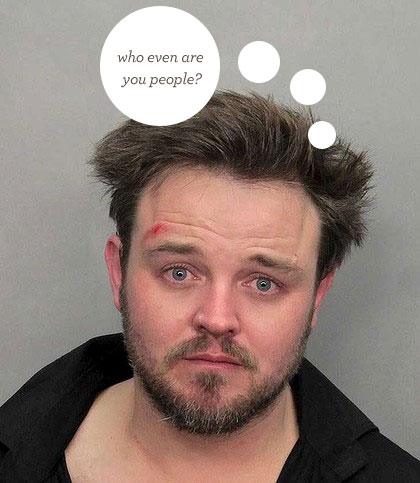 His actions are abhorrent. All of them. The way he has physically abused his partners. The way he has allegedly assaulted people he doesn't even know. It's dreadful. There is no excuse for it.
But whatever we – the public, the media, the people with the opinions – are saying about it is not helping. This is what it's like:
MATTHEW NEWTON:
I don't understand what's going on in my brain.
PUBLIC:
It's fucked, that's what it is! You're a nutbag! Everything you do is fucked!
MATTHEW NEWTON:
I'm overwhelmed and the world is frightening and I don't know who to turn to.
PUBLIC:
Better not turn to us, you spoilt little rich boy! Oh no, my dad is Bert Newton and he has all the money in the world, my life is so hard! Wahh!
MATTHEW NEWTON:
You're right, I am a fuck up, I don't deserve to get help. Let's go on a bender.
PUBLIC:
I can't believe you went on a bender! Stop being so mental, you fucking idiot!
 The media runs his mugshot with headlines that include the words again and this time. It should be obvious just from their inclusion that this is a man who is not getting better, who is not improving, who needs more help than what he's getting (if he is indeed getting any).
Do you know what he doesn't need? Public scrutiny. Jesus Christ, if I had the media taking note of every time I let myself be overwhelmed by depression and anxiety, I would go off the rails too. Coping with this kind of illness is hard enough without someone telling you that you're doing it wrong every week.
The media perpetuates this kind of illness. Depression and anxiety feed off perceived shortcomings. It's terrific that we give the poor bastard even more reasons to feel depressed, but this is self-perpetuating. We yell and scream at him to be a better human being, but we only serve to fuel the fire of his despair. And then when, predictably, something else happens because he is falling further and further into the well of self hatred, we do it again. And again. And again.
Let's look at how successful this has been as a strategy for helping those in the public eye to invest in themselves and become well(er) again:
Ben Cousins: the spectacle of his drug addiction, thug life stylings and baby mama sees him charged with drug possession as recently as last week. Yes, again.
Amy Winehouse: dead
Lindsay Lohan: missing presumed delirious with fear and mistrust
Heidi Pratt: disfigured and bankrupt (but seriously)
Having an expectation that celebrities who carry around mental health issues – whether pre-existing or as a result of their celebrity – should get their acts together while we observe and speculate is cruel. Recovery from these illnesses can be a gruelling, long and sometimes unsuccessful process, even when it's not being done in the public eye.
Matthew Newton doesn't owe us, the public, anything. He owes his former girlfriends and others who have suffered at his hand all the world's apologies, forever, but he doesn't owe us anything. We should not feel justified in crying out, "But he's a psychotic moron!" and expecting that we will give him the push he needs to find people who will help him. That's not how this works.
He doesn't owe us anything. He owes himself all the time in the world to treat himself kindly and jump on the road to recovery in private, without scrutiny.