By the way, your kids hate you
Apparently The Mummy Wars aren't taking off in the way the media would like. Maybe these mummies are just continuing to go about their day as though they're not being constantly judged by other women, or even worse, they've gone and spoken to each other about it and realised that no one ever hated anybody and it was all a media beat up.
Either way, The Herald Sun is clearly pissed off about it, because this is the headline they've chosen to lead with today: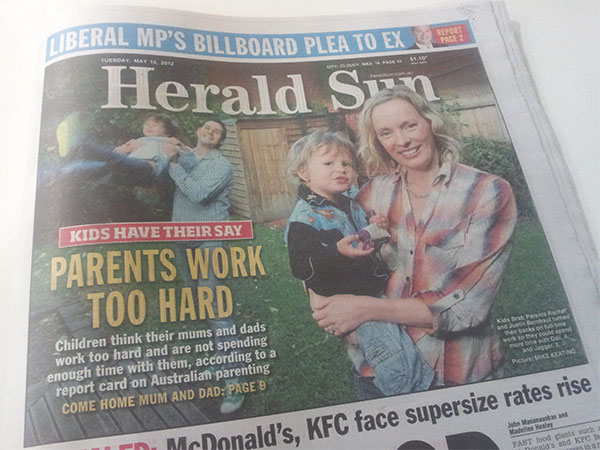 Parents, take note. Not only do your mummy arch nemeses think that you are setting your children up for a lifetime of loneliness and failed relationships, but now your children wish that they had a new mummy.
Unfortunately for you, it seems that Susan O'Brien has interviewed your child and your child hates you. You know that guilt you feel every day when you leave said child at Before Care, probably crying with hatred, and then head off to the job you love more than you love that child? Yeah, it's not in your head! It's reality!
This is what happens when you get back into your luxury SUV and sit in your heated leather seat:
BEFORE CARE LADY:
Good morning, Gloria! How are you today?
GLORIA:
The other mummies say my mummy goes to work every day because she hates me.
BEFORE CARE LADY:
Of course they do. We're in the middle of a Mummy War.
GLORIA:
The thing is, I've decided they're right. My mummy is a massive bitch. She doesn't love me enough to stay at home and have Mee Goreng packet noodles every night with me while we watch the space on the wall where the TV used to be. I hate her.
BEFORE CARE LADY:
That's what all the kids are saying. You're right to hate your mummy. She hates you. That's why she works.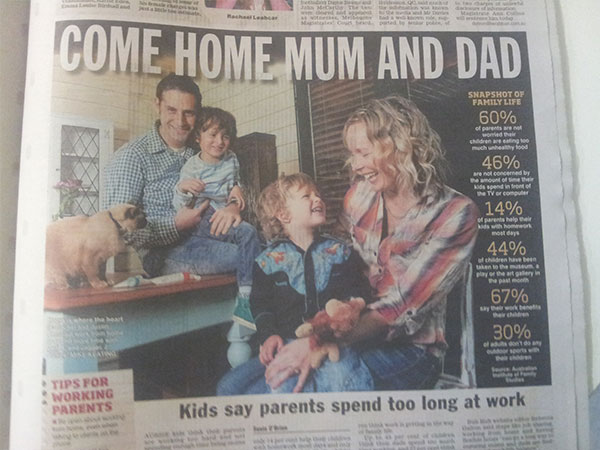 If you were at home right now, you and your husband and your multi-cultural children and your Burmese cat would all be sitting on furniture and laughing too! Forget schooling, you should go there right now and get your kids an early pass and then laugh all day! But you're not, and you won't, because you're at work. And do you know what kids say about work? They say that parents spend too long at work.
All they want you to do is COME HOME. WHY DO YOU KEEP SLEEPING AT WORK? YOU HAVE A PERFECTLY GOOD HOUSE HERE AT HOME WITH YOUR CHILDREN!
So tread carefully, because there is a world full of landmines out there. Landmines shaped like the time you missed their first haircut and the time you didn't go to their Christmas concert and the time you didn't get to After Care until 6:02pm and the time someone else's mummy made someone else cupcakes to take to school but you didn't and the time they got married and gave you your first grandchild and YOU WEREN'T EVEN THERE BECAUSE YOU WORK ALL THE TIME.
Jesus, you mummies are the worst.