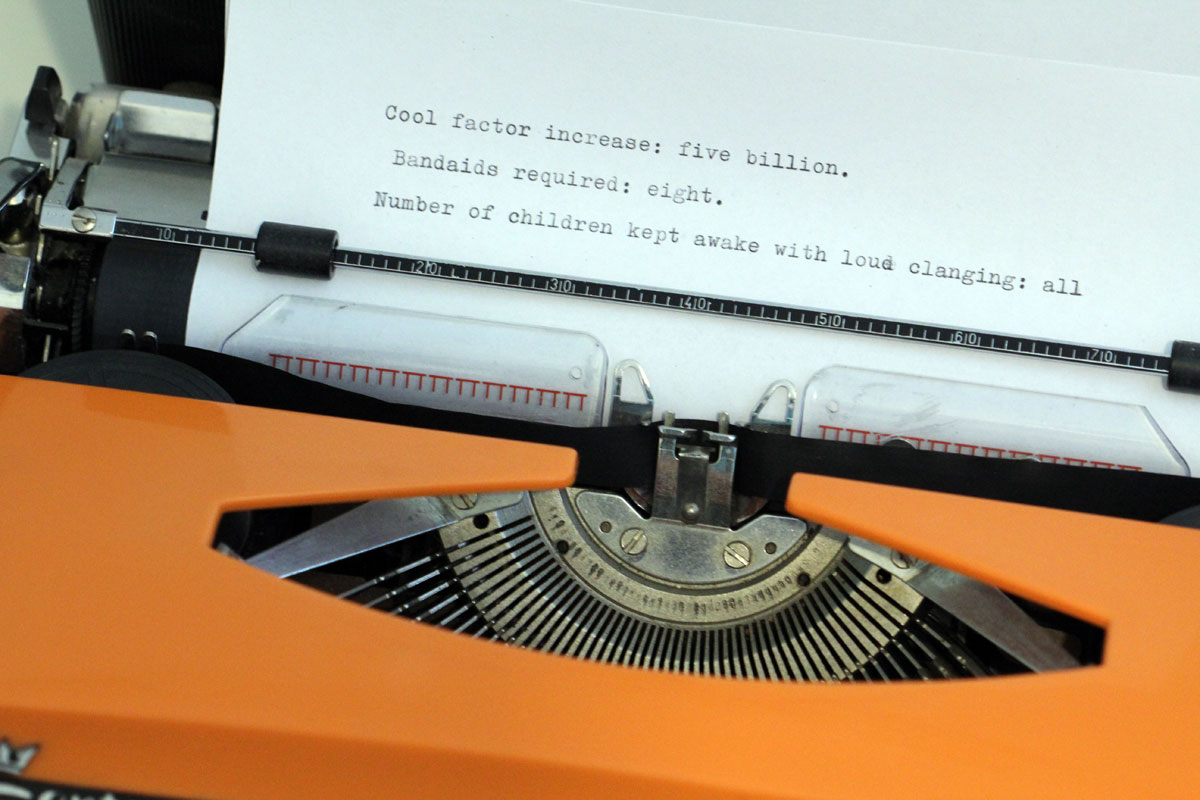 A bit of manual stimulation
Apparently I found it necessary to buy a typewriter. The good news is that I managed to get it out of its case and on to my desk, whereafter I typed some words and lost my finger between the keys quite often (see Fig. 1).
I've been led to believe that typewriters need names. This one is an Adler Contessa in very bright orange and so far I've called it "Whose idea was this?" and "Is it possible that the novelty has worn off before I've even opened it?", but I may settle on Clarice.
The purchase of said typewriter is my first superficial step in a move toward a more southern part of this fine land. Not Tasmania – though I would like that very much – but the Mornington Peninsula. Just the top bit. Last week I took myself for a wee journey down there and looked at trees and houses that might have been literal castles and the ocean was right there so I breathed quite heavily.
It is such a nice part of Victoria, what with the village atmosphere but the freeway just around the corner. I have this thought (delusion?) that I will sit in my brand new study with Clarice and overlook my children who have run so far into my 3/4 acre block that I can no longer see them and have they been bitten by a snake? who knows, this is the country! and let's all have a barbecue.
What I really like about the above image is that you can see where I made a mistake in 'loud'. I do so much deleting and rewriting while I'm blogging that it's kind of organic to see the mistake right there on the page.
Today I finished working on a piece I've been writing about women and mental health, and the way those with low- to mid-level illnesses can get lost in all the fuss. I spoke to some wonderful women and my word if they didn't make me feel even more like crying openly in front of everyone. Mental illness happens to some pretty great people.
Writing 2000 words about it was draining. By the end I just wanted to set fire to it and stamp my feet until someone transplanted my brain with one that works properly. Instead, I made a lasagne and watched Rum Diary, which helped me to feel both More Normal and also In Good Company.
Then this lady said to me, "Often the more talented, the more dogged." and so I went and painted the Mona Lisa because Christ am I dogged.
Now if you'll excuse me, Clarice and I are going to bed.