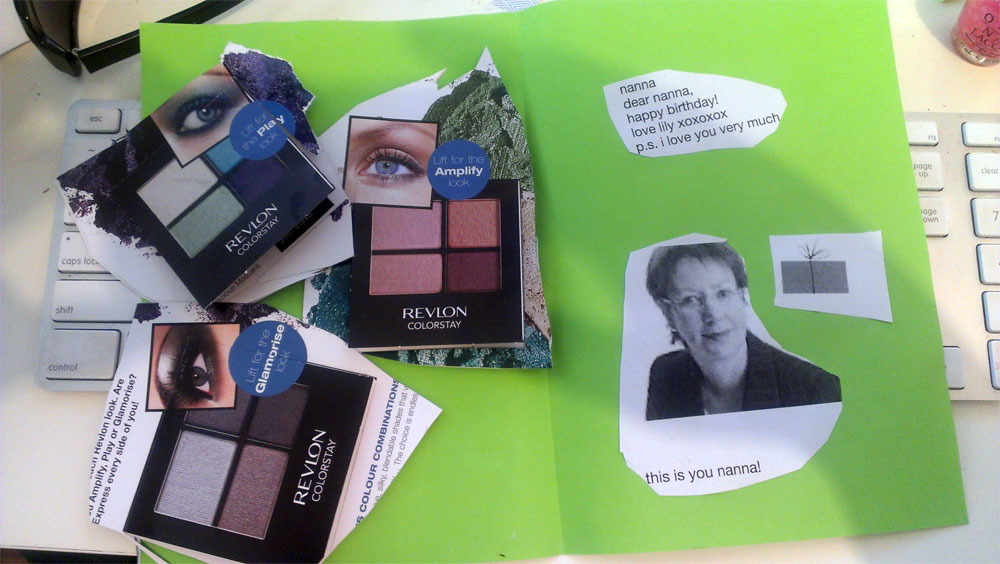 Lily, card maker.
Lily has been busily making a birthday card for my mum. I am quite impressed by the poetry of the greeting: nanna, dear nanna. This sets the tone of the card nicely – it is a serious reflection on just how important Lily's nanna is in her life.
I didn't have any digital photos of her, so Lily plonked her name into Google and found a very nice black and white number. Fortunately for mum, Lily has also captioned said photo helpfully, taking into consideration the increased age of her grandmother and the likelihood therefore that she may look at this card and exclaim, "Who is that person on this card?!"
Lily has also taken the liberty of cutting out a series of Revlon eyeshadow tutorials. Mum does wear eyeshadow, so the inclusion of these is fairly astute on her part, I feel.
I'm running a book on the likelihood that mum will open this card and cry for a number of days without stopping. Current odds: $1.01.