Parenting the little girl with the crazy eyes
I'm quite introspective at the moment, going through that usual crisis of just your bog standard futility of life. Most nights I go to bed just after eight and sit with my back against the wall and spread out across the huge expanse (I got a king size version for my birthday recently) with laptops and books and notes and pencils. I have pretty good intentions to write, or at least outline, but mostly I end up watching old Red Dwarf episodes. Then I jot down Christmas shopping lists that include things like 'everything the girls have ever asked for' and 'whatever the girls say they want' because I am caught in a deep mother guilt and am reasonably sure that the reason Georgia doesn't have any friends is because I didn't buy her enough things when she was a toddler.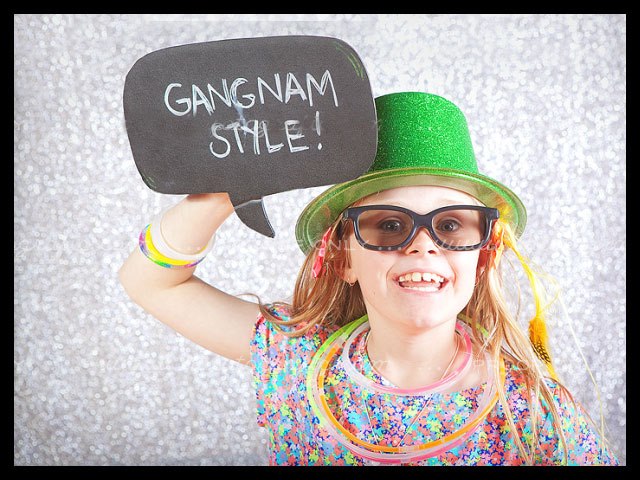 Here she is at her recent school disco. The dress is a fluoro number I bought from Seed, for Lily actually but she cried because she hated it so much, and the rest is Georgia's creative license in the photo booth. I love this kid so much that the first thing I did when I saw this, before I groaned at her obsession with Gangnam Style (she showed it to me on YouTube) or the fact that she seems to have stolen everyone else's glow sticks, was cry. A lot. Because all I see in this picture is her aloneness. I see a little girl so excited about being at the disco that she doesn't know how to push the excitement out and has eyes that are flashing with hysteria. I see a little girl trying to do the things that will make the other kids like her, and I can imagine her asking them to join her in the booth because she knows how cool it is to wear feather hair pieces and them looking at her like they can't even hear the words she's saying.
I've started taking the time to finish my afternoon's work early so that I can pick her up from school. Yesterday I saw her walking towards me with another girl, and my heart lurched clean out of my chest because I thought she might have a person to confide in and to feel good about it, and my brain in denial took all that time to realise it was just Lily. While Lily informed me that she had outgrown the nickname she's had since infancy, Georgia held my hand and said that she thought a girl in her class had invited her to visit their farm, but now it turned out that she didn't want her to come after all. 'Maybe she hadn't checked with her mum, and she's not allowed to take people to the farm,' I said, but Georgia told me that she knew it was because this girl didn't like her anymore and maybe never had liked her.
Now I crumble with every step of my day of parenting this girl, my first born baby so blonde and soft and bleating inside a tiny body like a kidney bean; my mirror and my friend. I don't know how to punish her when she misbehaves, because what can I take away from her that could be worse than being on her own? and what if this was the day she would meet her new friend at the pool and I stopped her because she hadn't cleaned her room? and what if she doesn't know how to talk to other people because she uses her brain spaces to remember how to pack the dishwasher? This morning she read a book of science experiments instead of getting dressed for school, and for a moment I yelled at her to Get Dressed, and You Can't Take Your Book To School, but later I gave her the book anyway because maybe the other kids would like to do science experiments with her.
I don't know how to help her make friends because she's spent 9 years without any, and now when the other kids do show an interest in her she grabs them like a favourite toy and won't let them go, until they slide out of her grasp like mercury and she says 'people don't like me'. I am hard up against a wall that shouts that it's true, the other kids don't like her, but it's not because she's not clever or funny or pretty or generous or considerate because she is all of those things. How do you look your child in her enormous crazy eyes and try inelegantly to explain that it's the others who are missing out, not her, when you know from experience that all she wants is to be a normal kid and not give a shit about the needles in her heart and just have one friend – just one – who will cross the road to say hello to her.
On the night of the disco, when she got home, I asked her who she danced with and she said "myself", but not in the comfortable bohemian way. Just the regular alone way.