A little lilting literature
I'm writing. Banging away on those keys. I have a splinter in my right middle finger, it pierced through the nail while I was sleeping, which I didn't even think was possible, but I woke up with it in there and now I have a nasty blood blister. That makes typing quite painful, like having a needle under my fingernail and then punching it repeatedly. Not recommended.
I have read some amazing books of late. That's the thing I do, besides writing and crying about my splinter. If you read these, your life will be better than it was when you hadn't read them, and what a sad time that was.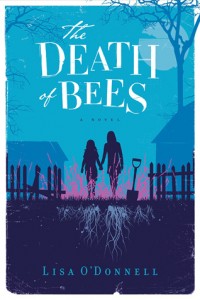 The Death of Bees
Lisa O'Donnell
I've been told this is a young adult book. It's narrated by young adults, true, but the content is very mature. Confronting and sad. Gutsy and real. I cried, for the characters in the book and then for the kids that actually live this existence day to day.
Now it's nominated for the Commonwealth Book Prize and rightly so. It will punch you right in the face and not even give you a tissue to wipe your bleeding, sad nose.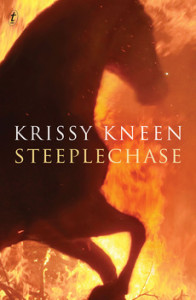 Steeplechase
Krissy Kneen
Krissy Kneen is primarily a writer of erotica, and perhaps that's why she's able to tap into human ferocity and passion so ably. I read this story quickly, in case I became trapped inside. It is a remarkably deft look at way our brain works, and how readily we believe what he has to say.
I read and read until my eyes were on fire. Then I sat in a quiet room with my mouth in an 'O' shape until someone I don't know came and shook me for a while.
And here's a scene from my work in progress, for you, and also for me, to keep me accountable to the internet.
There is a park at the end of the street, dark with the shadows of plane trees. I take my tired feet there on Wednesdays and Thursdays, after my shift at the fruit shop is over and I've escaped Steve Velidas for another day. Beneath the concrete bridge, a storm water drain curves its way through the suburbs, a dank snake. 

I love it there, the way the air clings to the walls in moss and mildew. In the summer, when the drought is in full swing, it catches the updraft and the wind shoots through cool and black. I lean into the bend and roll cigarettes for my friends, Joe and Ahmed. Joe because the arthritis has transformed his hands into hooked claws. And Ahmed because he doesn't have any.

The day the kid drowns, we all stand at the tunnel entrance and cross our arms. Rain churns like the sea, rising to the top. Reckon you'd hafta hold yer breath for six minutes if you was gonna make it out the other side, Joe says. Took everything, spray cans an' all. His cigarette hisses as it hits the water. Someone should call his mother, I say, but we've pooled our change for a Chiko roll, and besides, no one knows whether he has a mother. So we sit in the dull street light until the water has eased and the tunnel is clear enough for sleep and my friends begin to slip away. La nina, someone says.

I get home after midnight. Sarah is curled into a caterpillar on the cot, her back to the wind. Sarah, I say, something bad happened today. Her body moves beneath the thin blanket. Yeah, well, mama's gone out, she says, and I say a little prayer for the kid in the drain, and another one for me.
Best book you've read lately–go!