Happy birthday Georgia
Ten years ago, when I was 20, I had a baby.
I'm not sure whose idea that was exactly. It definitely wasn't my mum's idea. I remember the way her voice broke when I told her I was pregnant. I'd known the man who would become my husband for three months.
I know this post is a little (lot) self-indulgent, but it was hard. At times it was really, really hard.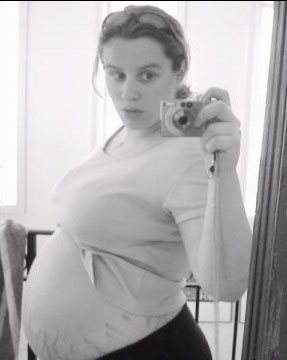 Mum bought me two pairs of maternity pants and the t-shirt you see in that  photo. That was all I had to wear. I couldn't afford maternity clothes. I couldn't afford rent. When I went to the supermarket, women stared at me, at where my wedding ring should have been. They felt it necessary to comment on how hard it would all be. I looked them in the eye and told them everything would be fine, but in reality I had the least idea anyone has ever had about anything.
This is an excerpt from the journal I kept at the time.
We got our eviction notice for our flat yesterday because we couldn't make our rent payment this month (they'll evict you if rent is 14 days late), which gives us 2 weeks to get all of our stuff out. We couldn't make our rent because we had to pay for repairs on the car after it broke down (meaning Michael couldn't get to work). I told my parents this last night and they YELLED at me. Then, and this was the clincher, he had the audacity to say that "poor Michael, you got him into this situation and now he has to put up with you". When I asked him what he was talking about, he said "well, you got pregnant", as if I did it all by myself. He said I'd been waiting for a guy who was gullible enough to knock me up so that they couldn't leave me.
I thought I was so clever, being a pretend grown up with my round belly, buying Target onesies in packs of three and hoping I could keep my baby in them for a couple of days in a row. Michael and I moved into a shitty unit and I was so scared that I made him drop me at my parents' house at 5am on his way to work, every morning, and then sat, waiting, hoping I would figure it out in time.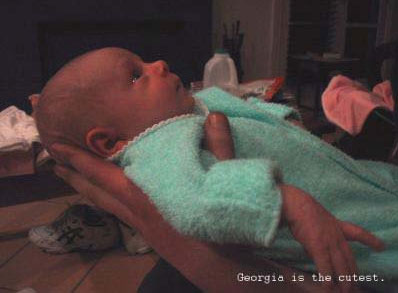 And then I had this little baby. When we brought her home, I put her down on the bed and she looked at me like, "Oh come on!" and I looked at her like, "Now what?" and we sat like that for the better part of 9 months. Post-natal depression held on to me with its rough hands, waiting for me to break. And I did break. I pulled this little girl inside my cocoon and cried into her soft skin. What was I doing? Why did I think I could do this?
And then she became a person. She grew upwards and she teetered on her skinny legs. She didn't say anything–and she wouldn't say anything until she was nearly 3 years old–but she looked. She looked at everything. She touched and she smelled and she grabbed and she held. She had an incredible naivety about her, a way of watching things for the first time, every time. She was always fascinated.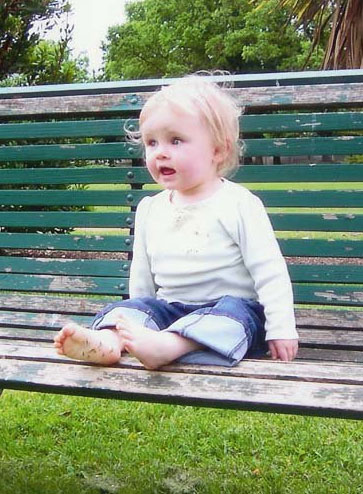 She was never still. I couldn't take my eyes off her for a second, though I often did. She used to take all of her clothes off and piss on my parents' hearth. I taped her pants on with duct tape and we just sat there, staring at each other, me daring her to do it again, her daring me to admit defeat. That pretty much sums up our relationship now, just egging each other on, daring the other to be more awesome at life. She is winning. She is amazing.
Tomorrow, Georgia will be 10. She has become the beautiful person she is because of and in spite of what I've done for her. I was clueless and hopeless, and she was perfection. She is a good person. She is selfless and generous. She is clever beyond comprehension. She is so much like me and also nothing like me, and for both of those reasons I still get frustrated by and anxious about being her mother. I don't know if I'm fully equipped. I don't know if any of this is even true, or whether she is the unfortunate recipient of all of my first-time-idiot-teenager-parent projections.
I might have done Georgia a disservice by being young and stupid. Maybe she would have been better off with 30-something parents with jobs and mortgages and gym memberships and Labradors.
But I love her with my whole heart, and that is the best tool I can offer.
Happy birthday, Georgia Cait. It feels like no time at all since I wasn't sure I'd make it through your babyhood, and now it's gone.