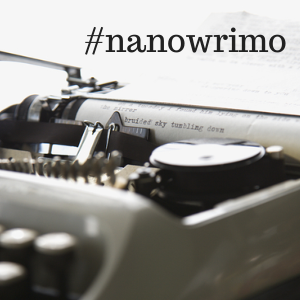 NaNoWriMo – Day 7
Today I am sick and hiding in my office with the window open, trying to cool my skin, which is on fire. I've written just over 10,000 words, which was par for yesterday, but I've not written anything today. I might, just to see what kind of strange fevered stuff comes out. In the meantime, here is a wee excerpt from chapter three, for your interest/to fill the gap.
---
There were days when we had lived at the beach (a plasterboard monstrosity with a wrought iron balcony that kind of slipped away into the sea) when there was harmony. Dad was at home a lot then, washed ashore from the mines in a little green boat, and he was everywhere in the house. On Friday nights he wore a kitsch apron—the exact wording on which escapes me—and we all stood around the Webber until the chicken was charcoal. Mum, too; just the breath of her, blonde and milky with her back to the water. In those months we were cohesive; four; a third of a dozen. At night the southerly winds beat against the windows and I was afraid, but only the normal amount. I was afraid enough to climb between my parents, hands over my eyes, but not so afraid that my lungs had closed over.
And they were in love, I was sure of it. I would sit in the hallway and watch them in secret—their reflection in the Ken Done painting he had bought for her fortieth. He held her around her waist and she rested her head on his shoulder, and everything they said was in whispers and glances. 'Perv,' Fleur said. Her boyfriend was James—Jimmy—Pavel, nose the size of a mandarin, and I knew that was why she didn't understand love. 'What would you know?' she said, and punched me in the arm.
The air moved in electric currents around my parents. She wore white dresses with lace keyholes, and he wore shirts with the top three buttons undone, and they always stared right into each other. When she cried, he didn't tell her it was okay, to be quiet, to get a grip. 'I wish I could trade places,' he said. 'I wish I could take it away. Half of it. A quarter. Any of it.' And then he would kiss every part of her face, his big hands in her hair and on her shoulders, until the shaking stopped. Sometimes she smiled afterward. Sometimes her eyes were dark. He didn't mind either way; just held her hand the same as he always did.
Sirens in the distance.
Sometimes I wanted to call the ambulance just in case. A preemptive call. Hello, I think something bad might happen so I was wondering if you could just hang around nearby in case because I've heard on the news that sometimes it takes you quite a long time to arrive and you just never know.
But I didn't. I just watched them in their easy silence, waiting to see who would leave first.