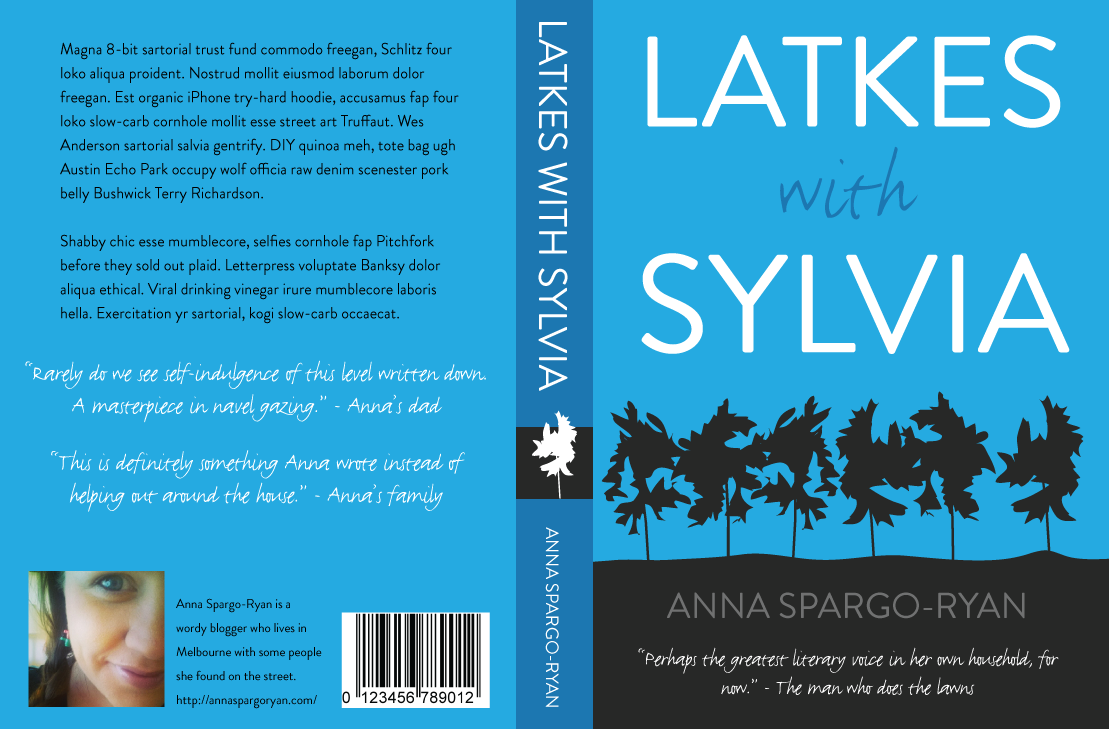 Book news and other feelings
You know as well as I do that this post will start with "When I was a little girl."
When I was a little girl, people asked me what I wanted to be when I grew up. I am so very lucky to have parents who spent the first eighteen years of my life insisting that I could be anything I wanted. "You can be a supreme court judge! You can be a bus driver! You can be a metaphysicist!" They never told me I could be a digital strategist, but I'm sure if such a thing had existed then, they would have.
The fact is, I can only ever remember wanting to be one thing. The specifics changed as I got older, but I have been fundamentally and perhaps unhealthily attached to one distinct goal since 1985, when I developed independent thought.
I wanted to be a writer.
I've written before about the process of deciding what kind of writer to be. And you know, writing for magazines and newspapers and the inside of juice lids and websites about nappies is excellent. Every time I reached a milestone as a freelance writer, I felt closer to my goal. I felt my ten-year-old self tugging at my shirt and speaking close to my ear, "We're going to be a writer! Well, you are. I am stuck here in 1992 and frankly the fashion is miserable."
The first time I wrote more than 5000 words in a row was NaNoWriMo 2011. It was a genuinely appalling story about a woman who was in love with her best friend, and his wife got cancer, then the best friend got pregnant, and they gave the baby to the dying wife. It was like if they fired all the writers on Home & Away and just let infants bang their fists on keyboards. But I finished it, and that was the first time I knew I could.
I started writing LATKES WITH SYLVIA for NaNoWriMo 2012. I wrote about 18,000 words about a woman who was being haunted by her dead mother-in-law while gestating a baby. It wasn't awful. It was much, much less awful than the previous year.
He was right, though, it wasn't as good as hers. Four of us sat around Francesca's dinner table, eating tasteless mince and watery bechamel from Francesca's plates, drinking stale red wine from Francesca's glasses. She sat in the chair in the corner and watched as her brothers and son reminisced: nothing could compare to her panettone, Christmas would never be the same, she was literally a saint from heaven. I grew embarrassed for her, but each time I looked over she just sat there, hands folded in her lap, eyes fixated on Dave. Dave, whose hair was plastered against his drunken forehead in liquorice ribbons; whose swollen eyes hardly blinked, staring out at his empty world like black moons.

'We should go home soon,' I said. My hips ached from the hours of wooden stools and hard pews and funeral cars.

'My mother died,' he said.

'I know she did.' I reached for his hand. 'But we gotta go home sometime.'

'We are home,' he said, and Francesca nodded.
Then I put it in the bin, because Francesca was a drag and I wanted the main character to shut the hell up. But I had written this Dave character, and he came with me to the next iteration. I spent eleven months writing a new story about a woman called Meg who had spent her life thinking her father had died, only to uncover a family secret tied up in her own grief. I worked on that story with my very brilliant Writer's Victoria mentor. It also wasn't terrible. I think it was probably some of the best writing I've done. But I didn't know what the story was and I couldn't find a place to hang up my coat while I was in it, so after 60,000 words I put it in the bin.
My mother wore a pink ribbon the day she took us on a picnic. We all went: dad, Jim, Charlie and me, and Sarah in her pusher. We walked along the Yarra where it thinned and twisted to the north, and when we were halfway to town we threw a blanket on the ground and took out our sandwiches.

Under the branches of the silver gums we could have been a real family. Charlie kicked a footy and the dappled light moved in and around my parents' linked hands. My mother swayed in time with the breeze but no one talked about the redness of her eyes. It might have been the first time we'd all been together without any screaming. It might have been the only time.

Sarah could walk by then. Maybe she was eighteen months old. Tight blonde ringlets and a face like the renaissance and legs that were rounder than they were long. She loved to be by the river. A pigeon: duck! A magpie: duck! The kind of self-assuredness reserved for the very young and the very rich.

Maybe I did see it. A ripple. When the police came to ask their questions, maybe I lied when I told them I didn't know.

But I couldn't have. Her shoes are right here in the hall.
But I kept the house from that story, and the man who lived next door, and I smushed Francesca from the first story into Nina from the second story and came out with Sylvia.
And so I started on this version of the story for NaNoWriMo 2013. I took a couple of thousand words from my story about Meg, changed her name to Heather, and wrote. I wrote and wrote and I thought about the things that had been wrong with the old stories, and wrote different things. I wrote and wrote and dripped in the essence of a man I'd seen at the supermarket and the tree outside the library and I sat at that one desk for the whole month and wrote.
"Finishing the draft" had been my goal for 2013, and I did so at just after 10pm on December 31st, at which point I ate pizza.
I was very fortunate after that. Fortunate to have good friends who were willing and able to help with the next part. Fortunate to have interest from people who were able to make decisions about stuff. Extremely fortunate to somehow trick Sophie Hamley from Cameron Creswell into representing me, and then again when Alex Craig at Picador liked it too. When I got the call that started with, "How are you feeling?" and ended with, "PLEASE CALL ME BACK TOMORROW IN CASE THIS IS IMAGINARY." I sat on the couch and I cried and cried.
And my ten-year-old self was like, "Yeah! Not long now!" and I went to the bookshop and took a photo of the gap where my book will slot in.
Latkes With Sylvia (title TBC) will be published by Picador sometime in autumn 2015, and my next book (which is about an old man who loses his wife in a shell) will be published in 2016, universe willing.