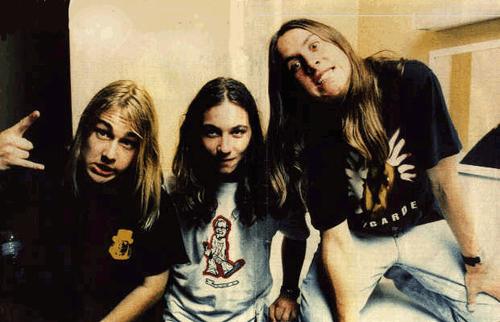 I don't eat things with faces
My nanna has always been a vegetarian. "I don't eat things with faces," she would say. "And anyway, it doesn't go through my digestive system properly."
I became a vegetarian when I was fourteen. I don't have a particular loyalty to things with faces, but this reasoning came in handy when I told my parents of my decision. "Oh yes," I said, "I am profoundly affected by battery hens. I've seen what they do to cattle. It makes me cry when fish suffocate." They were skeptical. And rightly, because tuckshop sausage rolls were a whole food group to me, and because they didn't know how to make lunches that weren't ham sandwiches.
Besides, I was lying.
The truth is, I became a vegetarian when I was fourteen because Daniel Johns was a vegetarian. He might even have been a vegan by then, but my commitment to our love did not extend to giving up milkshakes. I would watch him on Video Hits of a Saturday morning, right close to the TV with my nose pressed against it, and long to understand him, to have him understand me. I would go to bed at night inside my walls of silverchair posters and touch my hand to them, ask him to show me how to love him.
And then I read a interview in, look, maybe Rolling Stone because I used to buy it to flirt with the guy at the newsagent, wherein Daniel talked about vegetarianism. I can't remember what he said. Probably, "I don't eat things with faces." And I thought yes! that is something I can do to be closer to him, without diminishing my quality of life too much. Because that's how you demonstrate love: by doing the bare minimum to take an interest in things that are important to someone else.
I wrote a letter to the silverchair fan club, to notify them of this revelation.
Dear Daniel (and Chris and Ben),
I understand that you are a vegetarian. You are so gentle and kind. It must be really hard. I bet it helps you with your song writing. I really liked the film clip for Freak except when the woman turned into the alien at the end. Luckily Break My Stride is on right after it which isn't as freaky. I guess that's why it's called Freak though ha ha!
Love, Anna S-R.

P.S. I have decided to become a vegetarian. I don't eat things with faces.
He didn't write back, but I felt certain he appreciated my efforts, such as they were.
When I had been a vegetarian for about two months, we went on a family holiday to Europe. I begged to be allowed to stay home. silverchair were touring and I was their biggest fan and it was so unfair and how can you make me do this I don't even care about chapel ceilings or whatever and the Colosseum is falling down anyway! fuck! but I was forced into it. I cried at the airport. I threw food around the Qantas Club. I unfolded the photo of Daniel I carried in my jeans and I held it close to my face and ate a bit of lettuce.
In Salisbury, we sat in a pub called the Haunch of Venison, which was established in the 14th century, and which served giant Yorkshire puddings filled with venison and gravy. They smelled heavenly. They smelled like a grandmother was making a roast in a kitchen built out of donuts.
"No!" I said. "I don't eat things with faces!" and I had a carrot with a bit of broccoli on it.
My idea of "vegetarian eating" was essentially to take the meat out of regular food. All through France, I ordered Big Macs without beef patties. I ate cheese sandwiches and baguettes with butter and beans. I stood on the French Riviera and watched a fisherman turn an octopus inside out and thought about whether or not an octopus has a face, and then I ate an orange. Near La Croix-Valmer I walked through a meat market and watched a butcher slice a piglet filled with pâté and wondered whether it counted if the face had been glazed with honey, and then I ate some grapes.
Outside of Tours I found a copy of Freak Show in a second-hand CD shop and listened to it in the car while the others ate. I was among some of the best food in the world and I was starving. Daniel would know if I let him down. Daniel would be sitting in his recording studio, spurred on by my dedication to the cause. I couldn't do that to him. I couldn't be single-handedly responsible for the destruction of their third and best album.
I found relief in Florence, where I ended up at a piazza market, talking with a silversmith selling trinkets. He had all kinds of things: toe rings, ear cuffs, knuckle dusters. I scoured trays of earrings until I found it: my salvation. An earring shaped like a tiny silver dining chair. A silver chair. silverchair. It was 5,000 lire, which was all the money I had, and I threw it at this poor man and hid the token of my love away in my jeans and ate gelato.
After five long, hungry weeks, we arrived back in Adelaide and I went to the hairdresser in town.
"I want an extra hole in my ear!" I said, which was something I had been wanting to say since that Babysitters Club book when Dawn gets two holes in each ear. She obliged. I had an extra hole punched in my left ear. A dedicated place to wear my silver chair. I cried because it hurt, then went to the food court at the bottom of the Myer Centre and ate a Big Mac with meat included, and penned another letter.
Dear Daniel (and Chris and Ben),
Just to let you know that I've been travelling in Europe. It was very continental. Their animals are treated well there. I think it's okay to be a sometimes-vegetarian. The animals are going to die anyway so it would be a waste if no one ate them.
Love, Anna S-R.
P.S. I did see a cow's face for sale in a market. I have decided not to eat actual faces.
I lost the earring when we moved to Melbourne; it fell somewhere behind my bed and under the carpet and despite hours of searching, I could not find it. So I got my eyebrow pierced, because he had his eyebrow pierced.
Dear Daniel,
I got my eyebrow pierced. It hurt.
Love, Anna S-R.
P.S. I don't really think of Chris and Ben as being in the band anymore. That thing you're doing with Paul Mac is cool.
It may surprise you to learn that Daniel Johns has never given any indication of his reciprocal love for me. My mission continues.