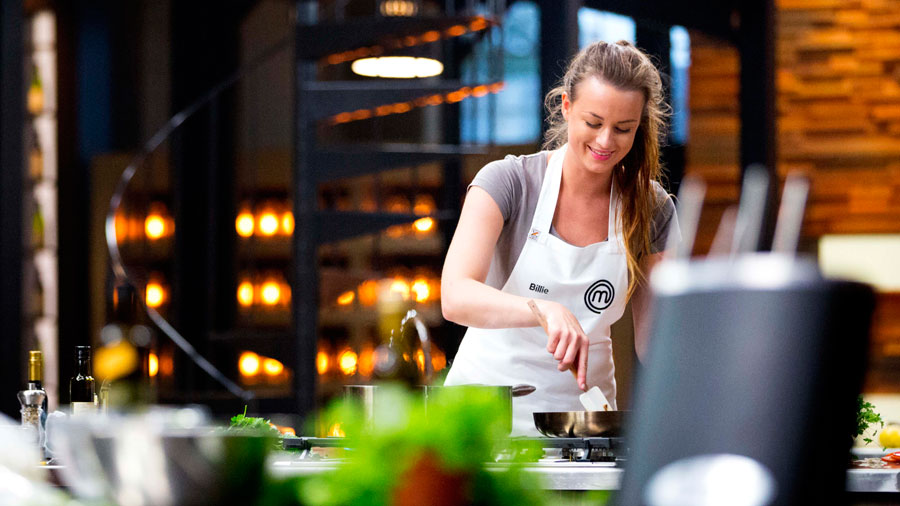 Billie wins Masterchef, Heston's heart
More than two million Australians tuned in to watch Billie McKay's coronation as Masterchef Queen, after she pipped runner-up Georgia Barnes in a doozy of a final challenge.
With Georgia leading by four points, we welcomed none other than Heston Blumenthal to the kitchen. The dish? Some kind of exquisite bird's nest, brought to life by a tiny golden sugar orb. Heston called it a Botrytis Cinerea, which is the scientific term for the fungus that grows on a stale news network between seasons of its flagship reality TV show.
The contestants approached their task as you would expect. Billie: as though wearing a laser scope; Georgia: as though bobbing in the sea. Truly, this dessert would separate the amateur cook from the much better amateur cook.
The gal from Ballina took to her challenge with aplomb. A neat tick next to each item. Her very frozen grape goo applauded her as she worked. And with each passing minute, Georgia's resolve cracked. Although she had excelled in the "food that looks like poo" segment, she was harried. She was haphazard. When she spilled her tray of fruity gloop, two million people held their breath and watched her world cave in.
Let's be honest — I have a lot in common with Georgia. I'd also have kicked the bin and cried my sorry heart out. But that's exactly what set Billie apart. She epitomised cool, calm and collected. We watched last night as she fought against her golden sugar ball and we thought, "Even her tears are organised. Nothing will break her. She might be an Avenger."
Hours ahead of schedule, Queen Billie and her golden balls took the time to check in on her floundering comrade. That's when it became clear it was over. Everyone knew. With a score of 30 to beat, Billie took four quick 9s and the victory. Georgia was quickly removed from shot as we cut to Billie's dear dad, crying with that same steeliness, and then to me, crying with all the grace of a goat in a puddle.
Now, I posit that $250,000 is a pretty great prize. Add a car to that, and a monthly column in a glossy food mag, and you're happier than the kids who won the pool on Saturday Disney.
But Heston had more in store for Billie. So impressed was he by her level-headedness and composure under pressure that he offered her the ultimate win: a minimum-wage apprenticeship in his restaurant, The Fat Duck. Cue further tears. Tiny George Calombaris began to float out of the studio on a salty wave.
This kind of twist is unprecedented, obviously. Never before in the history of Masterchef has something happened so unexpectedly. Never. Well, unless you count all those "eliminated" contestants they brought back. Or that time they made us watch The Renovators in the middle of the finale. Or, sure, Matt's pants.
Otherwise, never before.
Billie is reportedly planning to move to the UK with her boyfriend, where they will continue her "food journey", whatever that means.
So, Masterchef is over for 2015. And although we will miss our friends Georgia, Jessica and especially Reynold, I will miss Billie most of all. She is everything I wish I could be. I would trust Billie to fly a plane with me inside it. I would trust Billie to extract a baby chicken from its egg. I would trust Billie's steady hand to operate on my beating heart.
Until next year, Sirs Matt, Gary and George.