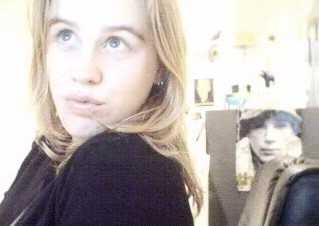 The Quebecois lumberjack
Fifteen years ago, I perched in Sydney for a while, in a renovated apartment block at the top of a hill. I had a job I didn't like. It had a panoramic view of Sydney Harbour, and in the evenings I walked to Circular Quay and listened to people busking in the orange light while I waited for my ferry. Apparently this displeased me. To counter these bad job feelings I often spent days watching Oprah on my couch. That was before pay TV, so Oprah would last for an hour and then I'd stare at Dr Phil's shiny face and wonder why I hadn't gone to work, and how long it would take them to fire me (incidentally, about a week).
After I was fired I spent my last dollars having my hair cut at a fluorescent salon on Military Road. The woman who cut it had hair down to her arse, thin at the ends where it had mostly broken off, but I vowed to grow my hair the same. "Just trim off a bit," I said. "Just so I can grow it as long as yours." She laughed, and her hair moved in its discrete waves.
With my hair cut, I poured myself into a bowl of noodles that I ate with plastic chopsticks. The noodle shop had metal seats and one sticky door that slapped in the winter wind. Sometimes, when my dad was in town, I would go there with him and we would eat noodle soup with prawns because he was paying, but I had lost my job so I just had Mee Goreng. Afterwards I wandered Coles, pretending I was not going to buy as many bags of Maltesers as I could afford, except that of course that was the whole reason I'd walked to Military Road in the first place. I had twelve dollars, which might have been four bags of Maltesers, and I pushed them under my jumper because it was winter, but also because the women who live in Neutral Bay are cripplingly beautiful.
I didn't look for a job right away. I thought I should, obviously, because I was in a strange town and I had spent my piddling savings on chocolate (this remains a habit to this day). I had a cat, then another cat, and they needed to eat. One day I pulled leftover pasta bake from the fridge and dropped the bowl. It smashed. A piece of porcelain entered my foot and remained there for several months. The cats ate around the broken crockery.
I went one night to a bar down the road, but couldn't afford to drink. I thought about my old job. I tried to pinpoint what I'd found so unbearable. Once a week, a masseuse would come with her table and bend and crimp each man (for it was mostly men, at the National Bank) back into shape. On Thursdays, we went to a bar on the corner and ate wedges to absorb the half-price spirits, which I once or twice vomited over the side of my harbour-view balcony. On Fridays I met my friend Katrina at The Rocks, and we had vegetarian pizzas and remarked on the way the light reflected on the water while it was torn up by yachts. And once a month, a storm would slam the building, bearing the brunt as it did at the foot of George Street, and I would curl into myself on the twenty-seventh floor and listen to the walls crumble.
(As a child, I watched an episode of Police Rescue wherein some people got stuck in a lift. One of them had an asthma attack. Another broke through the floor and plummeted to his death. I've never quite recovered from that.)
The main thing I could identify as being problematic in my job was the requirement that I always be there. Monday – work. Tuesday – work. Wednesday, Thursday, Friday – work. If I was going to spend my time watching Oprah on the couch, I would need more flexibility. A little work-life balance.
I'd been given a webcam by my parents as penance for putting 800km between me and my boyfriend. Before that, said boyfriend insisted he'd never masturbated. We would meet up after school on a Friday and put our mouths on each other and he would tell me that he didn't need to masturbate, ever. His lie dissolved when we realised we could do it via video link. I got a lock for my door. I became fixated on the idea of watching someone perform sex acts on themselves in real time. The boyfriend and I had broken up, but the webcam had come with me to Sydney and while I thought about getting a job — about how I would find a job that would pay me but not require me to do any actual work — I found my thoughts drifting to the webcam.
Everyone was a camgirl, in the late 90s and early 00s. It was so easy: bung up some photos of yourself in soft light, put them behind a paywall. At the helm was Nay, later Ashton Von, a kind of Ashlee Simpson look-a-like who allegedly had a breast augmentation paid for by a thirsty online suitor. It seemed so obvious. I was young and pretty and I had a pair of knee-high boots. I found a website that would pay you a commission for every minute someone was connected to you. You could set the amount, as much as people were willing to pay. The endeavour of every camgirl was simple: keep them on the line as long as possible. I decided I would push for six dollars a minute. Six dollars a minute! It had been taking me half an hour to earn that much at the bank.
Most of the men (and they were entirely men) I met were harmless. Show us your tits, your ass, your cunt. Spread your legs. Put your finger in your mouth. Put your finger in your ass. Put two fingers in your ass. Wear the mini-skirt; wear the schoolgirl outfit; wear the corset. They were efficient – two minutes, three minutes. I could pretend to pleasure myself for fifteen minutes a day and take home as much as I would at a full-time job. Plenty of time to watch Oprah. Spare money for Maltesers and noodle soup.
At some point, a Canadian man began to connect to my channel every day. He was Rob, or Rudy, or Redmond. He was wealthy but lonely, he said, and he liked my face. He was happy to pay me six dollars an hour, but didn't I want more? Didn't I want, he said while furiously tugging his old man junk, a lump sum? In exchange for exclusivity?
I thought of Oprah, of the days hiding from the storm on the twenty-seventh floor. I did want a lump sum. I was happy to be his virtual plaything for five hundred dollars a week.
He wasn't like the others, disconnecting after their 60 seconds splurt. He was sincerely lonely, he told me, trapped in a cabin in the middle of a forest, or travelling from motel to motel for work, or dining alone in downtown Toronto. Once a month he would like me to open my legs, but really, he just wanted someone to spoil. And the first thing with which he wanted to spoil me was a series of glamour shots. For that, I would need to send him my address. I thought of my five hundred dollars. I thought of the ferocious men in the National Bank building.
He sent me a voucher for Starshots in Chatswood, a super-classy establishment that relied mostly on its ability to use a curling iron and a greasy lens. I took the lowest cut shirt I owned and posed, with my new hair cut, in the sexiest way I knew how, which I now know was not remotely sexy but which was the best my 18-year-old self could conjure. They took six photos. It would be a couple of weeks. They would send them to me on a disc. How would I pay? Oh, a voucher. I see. I see.
I thought of my friend in Canada, alone on his Yeti farm.
The next month, I sent him the three best photos (head tilted to the side, head tilted to the back, over the shoulder) and waited to see if our tryst could continue. I imagined him taking them along to the pub, showing the other poor widowers his new girlfriend. He loved them. He would fly me out, he said, so he could show me how much he loved them. "Maybe in a while," I said, and spent my five-hundred dollars on a Nintendo 64 and a pair of corduroy pants. He began to send me small gifts in addition: more vouchers, flowers, tickets to the theatre, a copy of Photoshop.
A couple of months after our agreement began, a parcel arrived on my doorstep. I had made precisely one friend in Sydney, had visited three cool bars, had not kept in touch with anyone from my old job. I had alienated the people I already knew, had tried and failed at online dating, and had watched every episode of the current season of Oprah and all the other episodes besides. No one would send me a parcel. No one except Rob or Rudy or Redmond.
I opened it with trepidation. Even then, I knew I was teetering on the edge of a dangerous contract. He knew where I lived. He had plenty of money. One day, I was certain, it would be not a parcel on my doorstep but a Canadian man, come to collect what was owing to him. Inside the box was a Macbook. A three thousand dollar Macbook. In the card: I want you to always feel appreciated. I put the laptop in my wardrobe, behind the corsets and the come-fuck-me boots.
That night he demanded to know if I liked it. I did like it, I said. It was just such a big gift. It was too much. I was feeling uncomfortable. I wasn't sure what he wanted from me. Nothing, he said. He just wanted to spoil me. I wasn't obliged to do anything. He didn't want me to feel any pressure at all.
I used the Macbook to set up a new, better camgirl account. I registered a fake name, set up a website with a different stranger. I would do shows on the side to keep my options open. I could churn through some good volume. The men had got smart; they would watch porn until they were just about finished, then spend thirty seconds pretending I was moaning for them. Three dollars. Night after night, three dollars at a time. And during the day, Oprah.
One morning an email came through: "I've bought you something. Don't freak out. It's a surprise."
Days passed. Nothing arrived.
"It's in transit," he told me. "But I need you to do something for me when it arrives."
I ploughed through the three dollar cumshots, spent the money on Maltesers and noodle soup. Waited for the delivery with hot hands, waited to bounce it along to the next person.
Late in the year, I got a call from my local Kawasaki dealership. This was not a thing I knew I had, until they had taken delivery of a Kawasaki Ninja ZX-6R – a 600cc motorbike. $13,000 worth. Could I please come and collect it? I ran on my porcelain-probed feet and vomited in the kitchen sink. My email notification chimed.
"They tell me it's arrived. I want to ride it with you."
I called the dealership and told them I didn't even have a motorbike license. I told them they should take it up with the person who had ordered it, who as far as I knew was an oyster farmer off the coast of Nova Scotia. I sold the Macbook to a friend of someone I'd met during my short-lived internet dating experiment. I sent the most tasteful glamour shot to my nanna in Adelaide and burned the rest.
And I waited.
I waited for Rob/Rudy/Redmond to arrive at my door and … what? Assault me? Rape me? Murder me? I slept in the corner of my bedroom closest to the window and set hourly alarms for myself, so I could wake up and check that I'd not been kidnapped. I asked the other people in the building to keep an eye out for anyone strange, and they looked at me with their eyebrows up because I was the person who was strange.
Eventually, an email came: "I thought you'd like it. I'm sorry."
I immediately regretted it. I replied to his email, explaining that I was afraid of rejection, afraid of letting my emotions get the better of me. Silence. My regular pay day passed and no money appeared. He'd broken up with me.
A couple of weeks later, my parents split up and I left Sydney for good. I didn't pass on my new address. He disappeared into the recesses of my memory and I got a job as a database developer on King William Street, watched the men in the office come and go and hoped none of them would recognise me. Hoped I hadn't met any of them for three dollars a go.