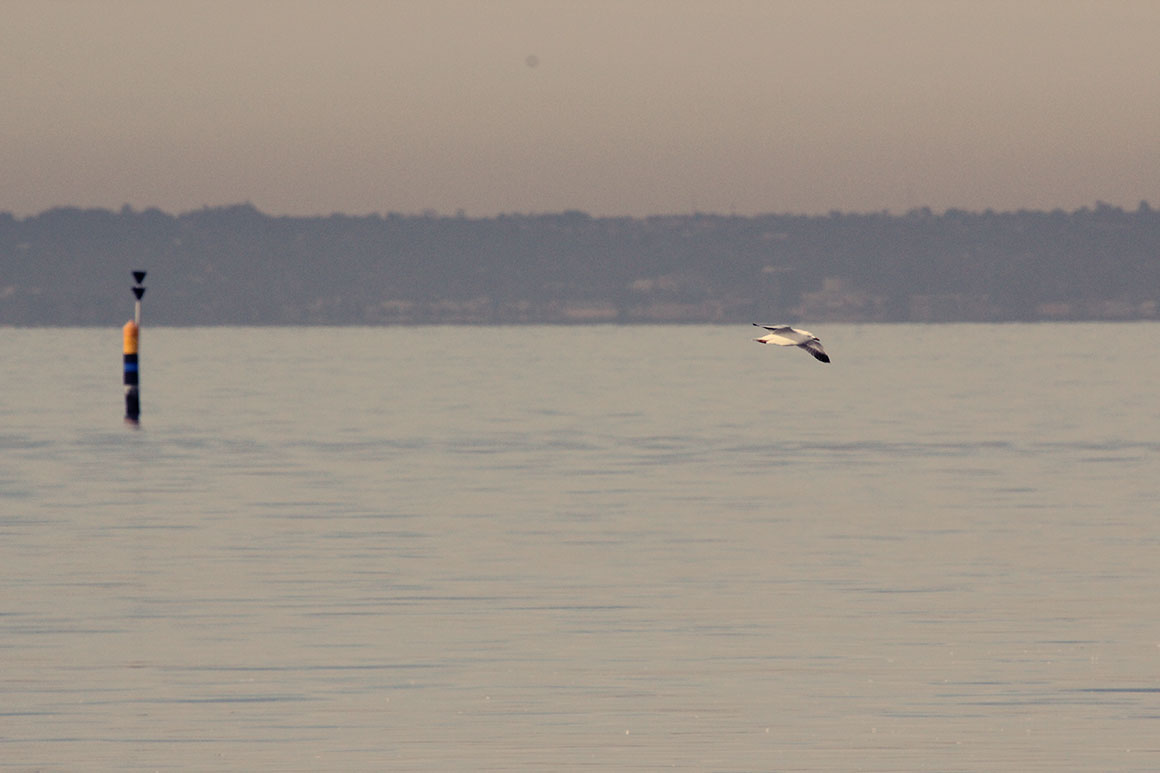 The Edge
I live by the sea. Not close enough to see the water cresting but enough to taste it on the wind and feel it rumble beneath the earth. I stand on my verandah and feel it all the way into my bones. I live here in part because I am a demanding water sign but mostly because I am at the edge of something, and when you live in a city as big as Melbourne, there are so few opportunities to be at the edge.
I'm not from the sea. I grew up in a landlocked house in Adelaide. In Adelaide, everyone is always at the edge. A moment's notice from somewhere different, somewhere nothing like the city. On autumn afternoons we drove into the hills and touched things on trestle tables and poured gravy over meat from a carvery. We turned the corner to go home and saw the tankers charge across St Vincent's Gulf and there was no need to be at the sea because in Adelaide, the sea is visible from everywhere.
Melbourne is a city of corners and nooks and people looking into windows. It is a city of art and books and chaps playing saxophones to the velvet heart of their instrument cases. It demands to be wholly appreciated, to be fully explored. And I do love it. It's just that in Melbourne, you are always right next to more. You stand by the river. Across the water, you see a train station, a billboard, a hotel, an office building. Beyond that, there's a ringing tram and a man with a cart full of nuts and a lion in a zoo and a girl crying in a hospital and then there's a terraced house where a woman is stirring passata in an iron pot and on and on and on it goes.
Each street corner is privy to a dozen different stories at any given moment and you can walk and walk until you think surely you must run out of street, but you're just on another corner with another group of stories. There are so many working parts to Melbourne that you are inevitably interacting with them at all times. A train crossing. A delayed bus. An accident on the Westgate; an accident on the Bolte; an accident on the Monash; an accident on the Ring Road. I used to step out of my house in Kew and travel on public transport for an hour and still be in a place that looked more or less exactly like Kew, only a little less hilly, or a little more hilly. I used to come home on the bus and watch the suburbs go by and think: this city is infinite.
Except by the sea. On a clear day I stand at the top of the railing and look over Port Phillip Bay and watch the Williamstown smoke stacks spit at the sky. I think, gosh, those smoke stacks are a long way away. There is a lot of sea between me and those smoke stacks. And then I look down the Mornington Peninsula, where a line of blinking lights curls up Oliver's Hill like a landing strip. I think, gosh, those people are quite far from here. Their lives are of no current consequence to me. And then I look across to Birrarung Marr, except that I can't see it because between me and the city there's a rocky peninsula and a bulbed inlet and six creaking piers and they are
all
quiet
and I can't see Birrarung Marr at all. I can't see that it is connected to geometric diarrhoea and a glittering spire and sixty-eight people running laps of the Tan. I can't see that it adjoins galleries and museums and stadiums and every kind of individual experience one can have in a city. By the sea, Birrarung Marr is invisible to me and though it is lovely and even serene, I crave its invisibility. I can't see that it is a swollen heft, bruised under the step of a thousand people eating their lunch in the sun. And so I am not a swollen heft either.
By the sea I can take off my feet for a moment and push them into the sand and shake the pieces of city from my ears. By the sea I can touch my toes to the sting of winter water and in the quick grab of breath I can catch part of it to keep in a pocket. By the sea I can coat my insides with the salted air and have no option but to wait under a tarpaulin of wind until I start again.
But these are not the only reasons.
---
When I was a little girl my mother nearly drowned. We were swimming at Port Eliot, on a part of the Fleurieu Peninsula notorious for rips and tides, a part known for lifting people up and running away with them. My mother was heavily pregnant and she waded to and from the water with her glistening belly and her shouting laughter, and we watched her from under our umbrella and she laughed and gleamed and then she was gone.
For years afterwards Dad would joke, "There's a shark out there somewhere, wearing your sunnies," but the reflection of the waves was in his eyes and we were aware of it always, of this mother we had borrowed from the sea.
---
A few years ago I moved away from the sea. I will live in the east, I thought. I will shop at Chadstone and breakfast in Malvern and take my children to school in an SUV. Sometimes we will walk down to the park and there will be a creek running through it, and over the bridge there will be a duck pond and we will sit by the pond and that will be a kind of edge. I will go to the mountains and drive round a bend and stand under a tall tree and that will be a kind of edge. I will sit in traffic on the freeway until I disappear through a tunnel and come out the other side and that will be a kind of edge.
For two years I sat in my house in the east and listened to the drum of traffic on Warrigal Road. It was a car that needed to get to work and a truck with a load to take to a quarry and an ambulance that had come too late. It droned and honked and hissed. It beat right inside me until deep in the night, when there was a moment of silence before it started again.
The lack of edge became a physical deficiency. Away from the water everything was right next to some other thing, all things crammed inside the other, jostling for space inside and outside. A car park. A school yard. A traffic jam. People shouting for a coffee to take them through their day of moving from one place to the next, pulling their feet from the tar of the road and sticking them into the next tired step.
I longed for the water's repetitive slap. I dreamed of sitting eye-level with it on a summer morning and resting my hand on the stillness of it. I thought of losing a scarf to the chaotic winter sea, of listening to it churn and pound. And right at the end, when I was so close to all of the everything that I felt it curled right around my chest, I said, "It's too crowded." because actually I was on the edge. Not at the sea, not safe inside the beat of it, but on a precipice.
We found a weatherboard house with a picket fence and a fireplace and an oak tree with its arms outstretched, and when we opened the doors to let the air in, it was salted.
---
For years, Dad ran weekend training courses at the Whalers Inn. We came through Victor Harbor with its Clydesdale horses and along the coast under awnings of pine trees, and he always played Spanish guitar music while he drove. In the daytime, Mum bought us fresh packets of textas and supermarket donuts with cinnamon sand. In the evenings a woman named Olive, who had three fingers, came to babysit and we watched The Goodies and she kissed us goodnight and smelled like a cod fish.
When the weekend was over and Dad's courses had finished, he took us down the hill to turn over the rocks in search of crabs. They burrowed away from us, deep into the sand, but their tiny spit bubbles betrayed them so we dug and dug until they were dislodged. Dad showed us how to lift them at the backs of their shells and they fought the air, and we laughed and the wind came up from Antarctica but we didn't feel it.
---
On the day we moved from our house in the east, I came over the hill and saw the sea in its grey expanse and I stopped. I stopped and I watched and I saw that the sea knew the edge. That this wasn't my private, secret edge but just a line between another line and a line after that.
I sat in scrubland at the top of the hill and noticed as the water reached for my edge, kissed it, pulled back, its endless dance to woo the uprightness of dry land. Where I demanded that it disconnect me from the city's loud voices, it knew only the reconnection, minute and frequent as it was.
Here you are, it said, here standing on this yellow sand in Port Phillip Bay, thinking about being invisible to Birrarung Marr, about a woman you don't even know in a house you've never seen, singing into her pot of bubbling passata. Here you are, away from the whistle of the train and the clang of the tram, disconnected from a river, a museum, a university, a pub; disconnected from a girl in a hospital and a man busking on a footpath and a different man with his hands pressed against the inside of the glass.
But what if I could take your breath and shoot it through the rocky headland and into Bass Strait, and out across the Southern Ocean and into Horseshoe Bay, where your mother nearly drowned, and under the shadow of the Bluff at Encounter Bay, where you learned how to find crabs? What if I took it around the torn corners of Western Australia, took your breath floating and diving into the tepid bath of the Indian Ocean and pirouetting through the Arabian Sea and then what if I charged with it down past the many faces of the African coastline and around the slicing foam of the Cape of Good Hope and north into the clear calamity of the Caribbean? What if I set your breath down there, on a different edge with a different city,
where would you have been, then,
except everywhere?