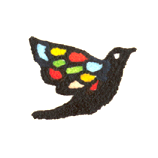 My grief cardigan
Like most people, I have accumulated many small griefs. They are time capsules, able to transport me back to what's missing. In some ways, sometimes, I rely on it.
In the minutes after my miscarriage, my grief was exquisite. I sat in an ultrasound room and I let my whole body take the force of it, every cell of myself that had suddenly become less than it was. My many small griefs had nothing on this one milestone grief, this overwhelming and life-altering loss.
They checked me in to hospital overnight, after my grieving body tried to kill me. I ate limp pasta from a plastic tray and watched television with the speaker right next to my ear so I didn't wake the nearly-dead. At three in the morning my partner climbed under the one-person plastic sheets and I felt the magnitude of my acute sadness in the marrow of my bones. When I went home the next afternoon, my family bundled me into the couch and told me to stay there. It was as though someone had physically removed a vital part of me; and I suppose, in a way, they had.
In the days that followed, I cultivated a great depth of sadness. If I could be this sad forever, I decided, I would remember my baby infinitely. It was a pure and profound grief. It was a visceral and whole grief.
Miscarriage is a secret kind of loss women still experience in a very individual way. No one tells you the weird things a body might do after prematurely evacuating a womb. It bleeds. It cramps. It lactates. I was stripped of every ounce of energy. I felt a hundred years old, with lead in my feet. I couldn't even go to the bathroom on my own.
So I stayed on the couch. At first, other people sat with me. They brought cups of tea and biscuits and my favourite flowers. I was in a capsule of sorrow. A manifestation of how absolutely sad I was managing to be. Boy, was I sad. I sat on the couch and thought about how my son would never sit on couches. I got a glass of orange juice and thought about how my son would never get a glass of orange juice. I poured everything I had into the absoluteness of my dire sadness, a grief so spectacularly large it would be written into the history books.
If this sounds excruciating, that's because it was. Not only the ethereal misery of it, but the utter boredom.
It was a surprise to realise part of me was bored of the sadness. It had become like a guy I tolerated in the lunchroom. I knew it was necessary, but I dreaded its presence. It wasn't intolerable, but it was kind of on the nose. It became a droll echo lasting all day and into my sleep. I woke up each morning and saw my grief waiting by the door and thought, Christ, not him again.
I began to feel obligated to it. I got up and put on my sad blanket and sat on my sad couch and tried to focus on making sure I was the right amount of sad. What were some other things my son would never do? What were the other ways I would never be happy again? I wrote letters to my loss, watched baby shows on TV to make sure I was feeling it as completely as possible. The guilt overwhelmed me. I didn't understand how I could grow tired of feeling bad without forgetting what I had lost.
I was physically exhausted. I didn't want to leave it behind, but while I had been crying into my blanket, my body had healed. No one had demanded I get over it. It had happened without me.
The dissonance of grief is like an old cardigan. You can't throw it out. You love it because you've known it so long, and it's comfortable even though it's moth-eaten. You know it would lighten your load to chuck it, but at the same time there are days when you desperately need it. There is boredom in the repetition of sadness, but also comfort.
Eight years later, as my children become teenagers, it's hard not to think of the child I lost. The grief is not the same, but sometimes it still traps me on the couch all day. Reaching for the new sadness gives me space for remembering.
Some days I put on my old grief cardi on purpose, to remember its exquisiteness.