2016 in writing
Not a lot about 2016 is worth reflecting on, let's be honest. The state of politics worldwide is enough to send a girl hurtling into space, I can't even watch Love, Actually because of Alan Rickman, and the hayfever's been so bad I've resorted to sending ants into my sinuses.
But! it was a good year for writing, for me, and I'm strongly in favour of shouting out the positives right now, so here's a rundown.
The Paper House
I BECAME A PUBLISHED AUTHOR. It was hard bloody work. I've spent most of my life thinking I couldn't stick at things, couldn't see things through to the end – I'm divorced, I've never graduated from uni, etc. – and the very very best thing having a book published taught me was that I can persevere even when I feel like giving up. And, like magic, that belief has leaked into other parts of my life. It's been quite affirming indeed.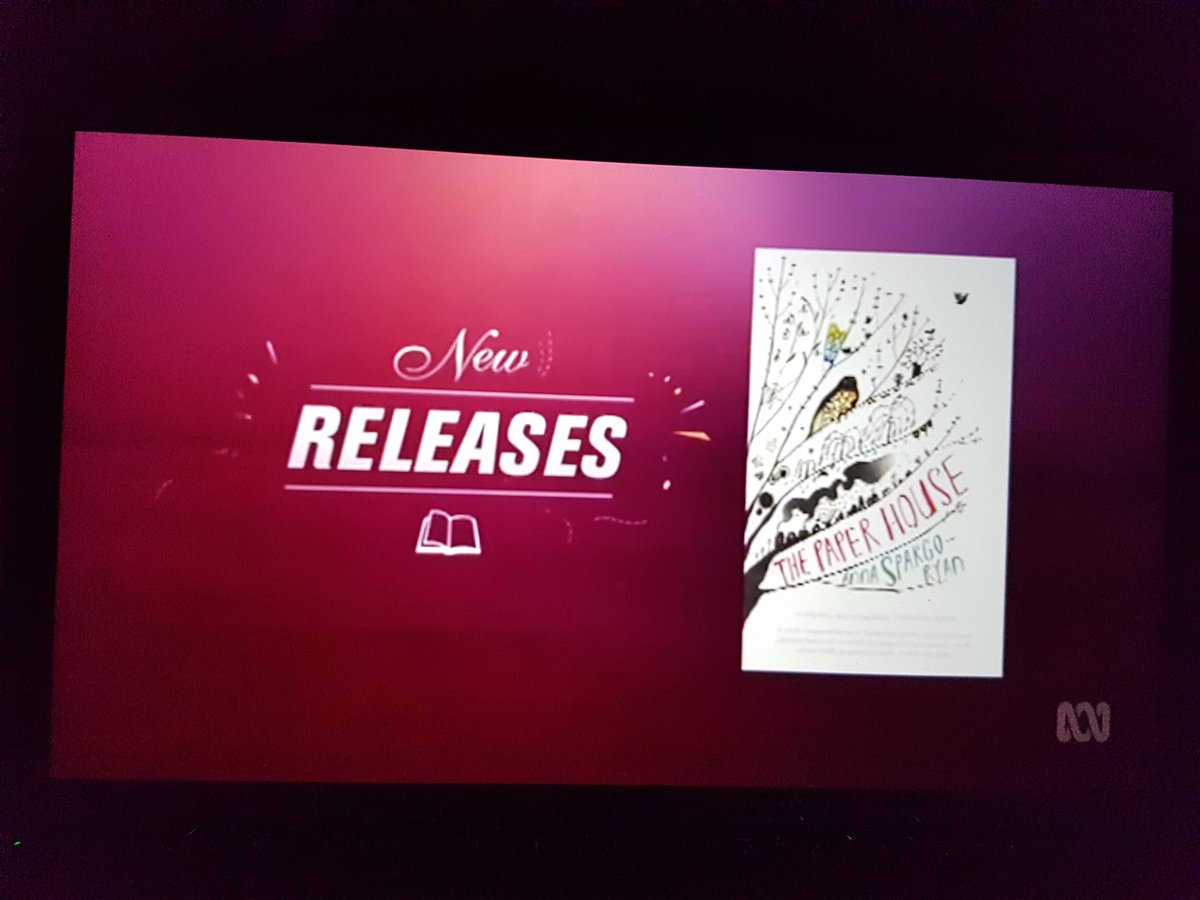 The feedback I've had has been overwhelmingly positive. Books + Publishing gave it four stars. It was on bloody the ABC's Book Club! My mother-in-law sent me a Facebook message that said, "You didn't tell me you were going to be on book club!" and I didn't know! so I frantically refreshed the iView page until the episode came up and then stared at the screen for quite a long time.
A couple of my favourite reviews are this gorgeous one from Kylie Maslen at book-plate, and this beauty at the AU Review.
It was also the Readings Fiction Book of the Month. And, it was a top pick in Dymocks's Sydney CBD store. And, it went to reprint before it was on sale. And, my local bookshops now give me an author discount.
I wrote, after my box of beautiful advanced copies arrived, about what it means to my childhood self to have ticked off this life goal. It's fair to say I spent quite a lot of June 2016 crying happy tears.
---
Short stuff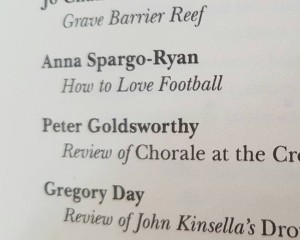 I wrote a non-fiction piece about my gramps, and how he taught me to love football, for Black Inc.'s anthology From the Outer. Then it was reprinted in the 2016 Best Australian Essays, and someone I really like said "it's the best one in there". Also, to deviate a little with a story, when I was a kid we went to the Goldsworthy house every Christmas morning for prawns and to have a sit in their porch swing. Peter Goldsworthy was the first "real author" I knew, and somehow his being my parents' friend made writing seem legitimate (my parents are very discerning people and wouldn't befriend authors if they were garbage). Now, in 2016, my essay abuts his in the Best collection. Cue: further crying, life affirmation.
I had short fiction published in Deakin Uni's journal Verandah and in Verity La, and a little creative non-fiction flasher at Seizure. I have a longer short story coming up in The Wrong Quarterly, my first overseas publication.
I entered an essay prize for the first time (at my agent's behest) and was shortlisted for "The Suicide Gene". Now I can write "Shortlisted for the 2016 Horne Prize" on things!
---
The Gulf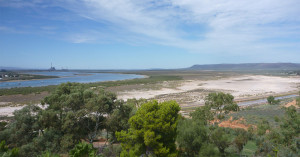 I finished writing my second book, The Gulf, and it was accepted for publication in mid-2017. I learned so much from writing and editing The Paper House, and this second book just poured out of me. It was one of those magical writer experiences — the story came to me fully-formed, I wrote it in three months, and never once felt like I had veered down the wrong path with it. I'm doing copyedits at the moment and should have a cover to share soon. There's a tiny excerpt here.
---
Other things
I wrote 50,000 words for Nanowrimo. I'm not sure exactly what they are yet, but some of them are quite good.
Some good things on my blog were this and this and this.
I was asked to – and then did – interview superstar Hannah Kent, and to the best of my recollection did not say or do anything embarrassing.
The Australian Women's Weekly called me a "literary star" and my nanna cried.
---
It's been quite a year for writing in my corner of the lounge room. Thank you so much for reading, and for all the kind and generous feedback you've shared, and for tolerating my ride on the Writer Doubt waves.