When the storm ended, the girl was gone. Waves came up over the rocks below the lighthouse and the currents tore a seam in the wash. Janet Callaghan had watched it form.
The first thing Les Harrison catches on his new line is a shark with his wife's hand inside. Little tiger shark, skin painted on. He doesn't know until Nige leans over it and sticks a knife in its belly, and out comes a Coke can and a plastic bag and some fish bones and the hand.
Once the baby's been born she stretches its arms into wings. Its genitals are so grotesquely enlarged they could be a peach or a tumour. The last trucks she saw were outside the mining town, climbing in their centipede convoys across the hills, and she watched them from the cluster of trees beside the road with her belly in her hands. Here, there is nobody.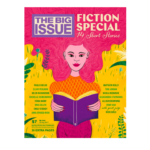 Useful tips for broken hearts
THE BIG ISSUE
Sometimes I go to the bakery and buy exactly what you always bought for me, in case they think "that's the same order as that nice blond man" and think that I must know the nice blond man, which is you.