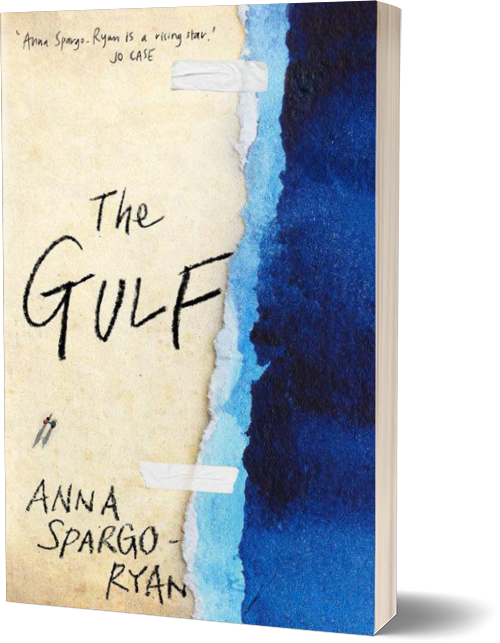 "Anna Spargo-Ryan returns with another impressive novel that will have readers feeling every emotion experienced by the beautifully written characters."
Books + Publishing




"It's not always easy to read The Gulf but it is impossible to turn away."
The Australian
"… Spargo-Ryan's delightful second novel, The Gulf, is exceptional …"
The Saturday Paper
"a warmhearted novel through which Spargo-Ryan proves again to be a sharp observer of human emotion."
The Guardian
"Anna Spargo-Ryan is a writer in command of every sentence, who somehow makes the unspeakable succinct."
Readings
"… the writing impels you through the narrative, always vital, often funny. Spargo-Ryan is definitely a writer to watch."
The Monthly
"Spargo-Ryan has a rare talent for conveying raw emotion"
The Herald Sun
---
---
"… a writer in command of every sentence, who somehow makes the unspeakable succinct."
– Readings
---
'He found an egg at the park so he incubated it and this tortoise hatched out.'
Skye's sixteen, and her mum's got yet another new boyfriend. Trouble is, Jason's bad news. Really bad. Now Mum's quit her job and they're all moving north to Port Flinders, population nobody.
'That's a Southern Right Whale. They have the largest balls of any animal in the world.'
She'd do anything to keep her ten-year-old brother safe. Things she can't even say out loud. But maybe she's in love, too, a bit. Local footy legend Raf has such warm hands. He helps her forget, just for a minute.
'Ladybirds bleed from their knees when they're stressed.'
But when Jason gets violent, Skye knows she has to take control. She's got to get Ben out and their mum's useless as. The train home to Adelaide leaves first thing each morning and they both need to be on it. Now. Everything else can wait.
The Gulf is an acute, moving and uplifting story from the inimitable, alchemical imagination of Anna Spargo-Ryan.
---
Excerpt
The month we arrived in Port Flinders was the wettest on record. We drove up on a Saturday, along the highway, stopped at Port Wakefield and bought an orange juice and a sandwich to share from the service station.
Near the intersection to the highway was a school marked by a rusted sign, and a caravan park with washing lines strung between faded cabins. Nappies and granny undies like sails were thrown about in the wind. The pub was two-storeys with a wide verandah painted both red and blue, like someone had forgotten to finish it off, and at the outside tables men sat with their tall glasses and their cigarettes and we could hear their laughter even with the windows up.
When the Spencer Gulf reappeared, it had white peaks and it slammed over and over against the retaining wall. We passed a post office and a bank and a Centrelink office, a sign pointing to a lighthouse and a police station, where a couple of cops leaned against the only patrol car and their uniforms were untucked.
'Look at this shithole,' Ben said, eyes glossy, and for the first time ever, Mum said nothing because he was right, it was a shithole.
We rolled through in Jason's old Ford, saw the jetty with tugboats moored to it like they were its children, and the street was full of kids with their clothes plastered, damp with rain, to their bodies. We drove down to the water, where a marina rocked back and forth. A couple of guys in floppy hats had fishing rods in the water, but mostly they were drinking from crumpled cans and slapping their knees. At the end of the jetty, someone was hunched over, feeding scraps of food to a little brown dog. The houses along the foreshore were older, pretty verandahs with curled iron eyelashes. People sat on their porches. Ben waved to them; they didn't wave back.
'How many people did you say live here?' I said.
'Four thousand, give or take.' A group of guys in school uniform walked by, barefoot, kicking a footy around. 'Take, mostly.'
'Is that even enough to have a school?'
Mum snorted. 'Nah, Skye. We're gonna send you both down the mines.' Jason laughed, touched her arm.
'Out on the fishing boats,' he said.
'Funny.'
Mum's arm came into the back seat, slapped my leg. 'We're guests here,' she said.
The rest of the main street was a bunch of shops with metal signs: two chicken shops facing off on opposite sides of the road, a corner shop, a bakery, an old electrical goods store probably still selling VCRs. As we rounded the corner, a doctor's surgery. People milled around in front of it. Some of them shouted at each other. There were no traffic lights. We pulled up at a GIVE WAY sign and a car rolled along in front of us, gleaming under the rain clouds. The whole place was old. Old buildings. Old people. A man with his face screwed up walked a dog across a roundabout. Somewhere, a clock started striking eleven o'clock.
Jason's house was a fair way out of town, over a bridge and across the road from a bit of flat land that someone might have wanted to make into a park, once. Now it was mostly green and yellow spinifex. We stood in the driveway with our bags in our hands. The house was a cream brick one with a flat tin roof and a satellite dish sticking out like an ear. He had a corrugated fence with a few paint smears, and over it we could see a Hills Hoist with faded towels dancing. At the back, a gum tree stretched into the huge sky.
'Get your shit out.' Jason pulled open the trailer; it creaked on its hinges. 'Gotta take this back before four or they'll charge me an extra day.'
Ben and I would share a bedroom, he told us. Ben's bed had Thomas the Tank Engine bedsheets. 'I'm ten,' he said. The house had three bedrooms but Jason needed the one at the front for his business and under no circumstances was he going to run it from the living room. Ours was at the back, in an asbestos extension with a sliding door out to the garden, where a sad-looking dog walked laps around the clothesline.
'Who looks after the dog when you're not here?' I said.
'My brother Kurt pops in. He's happy s'long as he's got a bone.'
'What's his name?'
'Kurt. I said that.'
'The dog's name?'
Jason spat into the kitchen sink, wiped his mouth on his sleeve. 'Murray.'
[/vc_column_text][/vc_column][/vc_row]